I'm going to take a silver lining from the commotion that the small pilot Low Traffic Neighbourhood in Crystal Palace has caused – namely that a lot of people are now talking about traffic levels and air pollution.
One of the two campaigners trying to remove the LTN measures has said their second aim, after removing those measures, is to improve local air quality.
Assuming all the interest is genuine, I've written this blog to set out some facts about traffic and pollution and some options to try to address the longstanding problems blighting Crystal Palace.
By the way, the pictures above were taken in 2014, when I last wrote about traffic in the area. Congestion and pollution is nothing new, here!
Traffic in Crystal Palace
Let's zoom in from the national to the local, to understand this properly.
Road traffic in Great Britain increased from 255 billion miles travelled in 1990 to 328 billion miles in 2018, an increase of 29%.
In London traffic had been falling slightly, year on year, in the noughties according to official statistics. Then from 2009 traffic started to rise and it had increased by 21% between 2009 and 2019. In Bromley and Croydon it rose more – 26% and 27% respectively.
Across London the increase has almost exclusively been on minor roads, as this chart shows.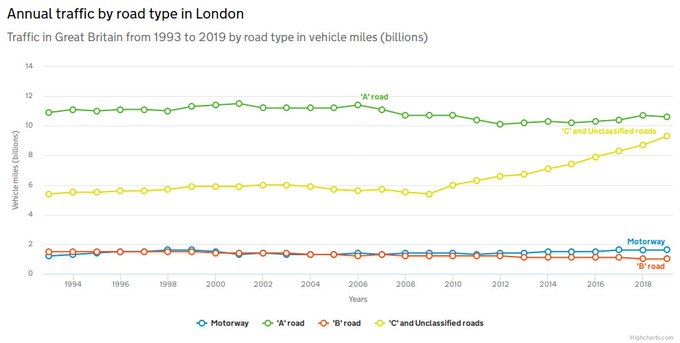 Traffic levels across London's residential roads have increased an incredible 72% since 2009.
This is partly blamed on SatNavs leading to more people cutting through residential areas, the rise of Uber & co, and the decision by Boris Johnson while mayor to reverse policies to prioritise pedestrians, cyclists and buses.
Traffic levels on the main roads in Crystal Palace have mostly followed the Londonwide pattern – falling up until 2009 and then flattening off, or in Beulah Hill's case going down then back up again. In the chart below the Y axis is average daily traffic flow in both directions for cars (not including buses, vans, lorries, etc.) We know that these traffic levels are too high – that Crystal Palace is frequently congested, particularly around the Triangle.
[Edit: it has been pointed out to me that the figures for this part of Crystal Palace Parade have not been manually counted since 2012, and have been extrapolated. Another count location on the same road near the petrol station show rising traffic again since then. The other locations have more recent manual counts so I think those figures are broadly robust.]
Sadly there isn't much detailed monitoring of traffic levels on residential roads around Crystal Palace.
The government stats include manual counts for 2019 at the top end of Stambourne Way (4,655 cars per day) and Spa Hill ( 5,146 cars per day).
Croydon Council commissioned manual traffic counts on Auckland Road in January and August 2019 and measured a daily average flow in one direction of around 5,000 vehicles in January and 3,500 in the summer holidays.
A group of local residents repeated the exercise on Sylvan Hill in late June 2020, as lockdown was easing, and counted a similar volume of traffic with people cutting through residential streets. [Edit: it has been pointed out that there were various roadworks at this point so more people may have been using this route to avoid them.]
So last year these four ostensibly residential roads have been as busy, if not busier, than Central Hill – an A road. These are not suitable traffic volumes for residential roads.
We don't know what has happened to traffic levels across London or Crystal Palace in 2020 – there is no published data – though we all have our subjective impressions. Using its own data Waze estimated that congestion across London (excluding the congestion charge zone) was 20% higher in August than the same month last year.
In the absence of any monitoring by councils we'll have to wait until next year for the Government's stats on our main roads to be updated.
Air pollution
Traffic creates various types of pollution from exhaust fumes and tyre wear. Traffic is the main cause of air pollution in London, and especially around Crystal Palace where there isn't much by way of industry.
Air pollution causes a range of health problems including:
As many as 64,000 early deaths a year across the UK.
Aggravated health conditions like asthma, heart disease and dementia.
Reduced lung development in children.
There is only one location in Crystal Palace where air pollution is currently monitored – Anerley Hill, where Bromley Council measures Nitrogen Dioxide levels each month using a basic technology called diffusion tubes. These measure the average level over a month, so in a sense underestimate the average traffic during the day when people are waiting at the bus stops or sitting outside pubs and cafes. On Anerley Hill, average pollution levels have exceeded legal limits in 2013, 2014, 2015, 2016, 2017 and 2019 (falling just below in 2018, but still at unhealthy levels).
I led a citizen science project to get a snapshot across 20 other locations in Crystal Palace in July 2014, using the same diffusion tube technology. Note that that traffic levels and pollution are lowest in July and August, so if we had done this in October or February we'd have recorded much higher levels.
Still, we measured pollution levels far above the legal limit on every main road location except one part of Central Hill, and levels by the bus station twice the legal limit and as high as The Strand in central London. They're mapped here and shown below.
We don't know what pollution levels are like in Crystal Palace at the moment, compared to previous years. Bromley Council is still monitoring the location on Anerley Hill but told me it won't release the data for 2020 until next summer when it has been verified.
With generous support from local residents, especially Andy Stem of Bambino, I've crowdfunded £450 to run another citizen science project this winter which will include a focus on roads in and around the Low Traffic Neighbourhood. Details TBC…
Climate change
Traffic is a major contributor to climate change – 25% of our average footprint in Croydon – and these emissions need to fall drastically if we are to avert catastrophic climate change.
While the UK has made huge strides in cleaning up our electricity supply, carbon emissions from road transport have actually risen since 1990 by 6%. Our total emissions need to fall by 60% by 2030, and to zero by 2050, following government targets, so transport emissions must start coming down.
But locally, emissions from road transport have risen since 2010 in Croydon and Bromley, and fallen in Southwark, Lambeth and Lewisham. That's pretty much in line with what's happened to traffic levels. We are making the problem worse when it needs to be getting much, much better.
In the Mayor of London's climate change action plan it says petrol and diesel use needs to fall 10% in the next two years assuming it had already been dropping (which it hasn't), 40% by 2030 and 100% by 2050. The graph below shows the huge drop in diesel (grey) and petrol (pink) fuel use that's needed.
But in recent years we have been heading in the opposite direction – petrol and diesel use is rising in Croydon and Bromley. This is really, really bad because climate change is an existential emergency for humanity. We can't keep going in the wrong direction. So now we need to cut even more, even faster.
This can only happen if we both switch to electric cars and switch to walking, cycling and buses instead of driving so often. Waiting for electric cars to replace the petrol and diesel fleet will mean we emit too much over the next thirty years.
Road safety
Speeding is a problem across the local area. Just a couple of examples… In February 2011, the Metropolitan Police carried out a speed survey on Crystal Palace Park Road and found that 48% of vehicles were breaking the 30mph speed limit. In January 2019, Croydon Council carried out a speed camera survey on Auckland Road, near the bottom of Stambourne Way and found 80% of vehicles breaking the 20mph speed limit.
Lots of fast traffic means more collisions, worse injuries, and roads closed more often to deal with the crashes. This map shows the serious and fatal collisions in Crystal Palace over the past twenty years. There are many more slight injuries.
Collisions are most common at road junctions where car drivers turn off or onto a main road without paying enough attention, at pedestrian crossings for the same reason, and along high streets where shoppers often nip across the road between shops, cafes etc.
In short
To summarise the above, we can say:
After falling in the 2000s, traffic on main roads in Crystal Palace has been broadly unchanged over the last decade.
There is no good data for Crystal Palace's residential roads, but across London traffic has risen 72% on residential roads, and a couple of local counts suggest traffic on some rat run roads are comparable to some lesser-used main roads.
Air pollution on main roads in Crystal Palace has been above legal limits for at least the last decade.
Carbon emissions from road traffic have increased in Croydon and Bromley since 2010, and now need to fall dramatically which must include a shift from car journeys to walking, cycling and buses.
There have been scores of serious or fatal collisions on our main roads, which are obviously far from safe.
So what's to be done?
The reason that traffic fell slightly across London from 2000-2009, even as the population rose by 1 million, is that the mayor and government, and some councils, explicitly aimed to reduce traffic and they used lots of carrots and sticks to achieve this. The carrots were things like investment in public transport, tax incentives to buy a bike for commuting, and wider pavements and more pedestrian crossings; the sticks were things like the congestion charge, the fuel duty escalator and (!) closing roads to through-traffic.
It's worth noting that two in five car journeys in London can easily be made on foot or bike – 2.7 million journeys a day. That's excluding 'heavy' shopping trips, people with disabilities that mean they have to drive, etc. So it wouldn't take a lot to substantially reduce these traffic volumes.
We can do this again, but it needs TfL and the five councils that meet in Crystal Palace to aim to reduce traffic and pollution, and to use lots of carrots and sticks again. No plan that just uses carrots will work, and no plan using sticks will be universally popular.
Here are some options based on my own experience working in transport policy for about 15 years, including a 7 year stint in City Hall. I've also set out some that I don't think work.
Carrots
Improve public transport – of course! There was for example the proposal to bring the Croydon tram to Crystal Palace, which needs money and would reduce road capacity for cars up Anerley Road/Anerley Hill. But London is unique among world cities in that the government no longer gives it any central subsidy, and the money it spends on roads is actually subsidised by fares. Further improving public transport would mean higher fares, more charges on driving, or more money from central government – and at the moment TfL's finances are in freefall and the government is playing hardball. During the pandemic bus capacity is also very constrained so this isn't a solution to our short-term problems.
Make roads safer for walking and cycling – more 20mph speed limits, wider pavements, more pedestrian crossings, re-worked junctions, physically separated cycle lanes on main roads and low traffic measures on residential roads (i.e. closing them to through-traffic with bus gates or barriers). In Crystal Palace you can't put proper cycle lanes on Church Road and around the Triangle without effectively closing them to HGVs, which is one reason why alternative routes on residential roads like Harold Road & Bedwardine Road, Auckland Road & Belvedere Road become important. Again these measures all need money, and also mean less road space/convenience for drivers.
Subsidise car clubs – roll out more cars so more people can use them, offer council staff membership as a benefit in kind and encourage/subsidise other employers to do the same. Car club users tend to drive less than people who have their own car because the cost of each trip is higher with a car club, whereas with your own car the large sunk cost is buying and insuring the car.
Subsidise electric cars – some subsidies exist but could be more generous, though they will mostly benefit better-off people who can buy new cars, electric cars still cause exactly the same congestion, and still cause significant air pollution and microplastic waste through tyre wear. Hopefully tyre technology will improve.
Upgrade the buses – TfL was due to upgrade the entire fleet to hybrids by 2012, Boris Johnson scrapped the target and Sadiq Khan hasn't accelerated the upgrades again. Buses are responsible for up to one third of the air pollution on some of Crystal Palace's main roads and one tenth of road transport carbon emissions across London so this should be an easy win.
Sticks
Increase the cost of driving – vehicle excise duty, fuel duty, congestion charging, road pricing. The real cost of driving has fallen consistently for years, while the cost of public transport has risen. Only the Government can do this, though the Mayor/TfL should be advocating for powers to do this as with the congestion charge. It is by far the most effective option.
Target polluting vehicles – all of the above can also be targeted on the more polluting vehicles. The Mayor's Ultra Low Emission Zone for inner London does this by charging drivers of dirtier vehicles £12.50 per day, and in its first six months reduced the number of cars being driven by 13,500 and reduced roadside nitrogen dioxide pollution by 36%.
Make it less convenient to drive for short trips – the proven approach used for decades around the world is to close residential roads to through-traffic so you can easily travel through the area on foot, bike or bus. This is the basis for Low Traffic Neighbourhoods. You can do it with physical barriers or (more expensively) with cameras, and you can choose to allow some vehicles through camera gates like buses, emergency vehicles, local residents and delivery vehicles.
Reduce, or charge for, car parking – especially around the Triangle to discourage people from driving to the shops/cafes/etc, but you could also roll out Controlled Parking Zones across the wider area to discourage multiple car ownership and stop people parking on side streets to visit the Triangle. This, as with other measures, would benefit from careful work with local businesses, though research has shown that business owner often over-estimate the proportion of their customers who reach them by car.
Dead ends and cul-de-sacs
This next set of ideas all have a bit of an impact. But they are small fry – they just won't add up to enough of a difference. We could still do them along with a big bunch of carrots and sticks, of course.
Voluntary car sharing schemes – they've been around for decades and rarely take off unless you have a stick, like penalising people for driving solo or controlling workplace parking so only car sharers can park.
Encouraging people to voluntarily change their behaviour – we have all heard and read about air pollution and climate change for decades but still some people are driving as much if not more than ten years ago. You need carrots and sticks.
Prioritising smooth traffic flow so vehicles idle less, reducing pollution – idling vehicles do pollute more than moving vehicles, and Boris Johnson tried this for 8 years by reversing Ken Livingstone's support for things like LTNs, pedestrian crossings and expanding the congestion charge zone. The result was that traffic stopped falling on main roads and leapt up by 72% on residential roads, leading to more pollution and congestion.
Cycle training – it's good to give free training and confidence classes to children and adults, but if the roads are hostile and unpleasant while driving is convenient you're not going to persuade many people to take to their bikes.
Putting cycle lanes on residential streets – these are really expensive if you cover enough road length to make them useful, and on a lot of roads would require most or all of the on-street car parking to be removed which would probably be even less popular with motorists than the LTN!
Put pedestrian crossings on residential streets – this is again a potentially expensive solution to the road safety issue if you put them at every natural crossing place, and again does nothing to reduce traffic or pollution levels.
More speed bumps and chicanes to calm traffic – these can help to reduce speeding and so can be a very good thing, but they don't reduce traffic levels (as we've seen over the past decade) or pollution.
Making side streets one-way – this turns a residential area into a gyratory system where drivers end up driving even faster (not needing to be careful of oncoming traffic). Unless, that is, you follow Westminister Council and use one-way systems to make residential streets inconvenient and impractical for through-traffic, which takes us back to the stick.
Filtering air pollution – Boris Johnson famously put planters near monitoring sites and hosed down the pavements to try to suppress the pollution readings. You can use plants and air filters at schools to slightly reduce pollution in the playground and classroom, but to roll this out widely would be very expensive and it only has a marginal health benefit, while of course doing nothing to address congestion and climate change.
The long and the short of it…
Whatever combination of carrots and sticks, the end result has to be that people drive less. If you're stuck in a traffic jam, you are the traffic!
There is no solution to these problems that means everyone can drive just as much, just as cheaply, with just as much convenience, as they do today. This is especially true of short car trips – cars can't be our default way to drop kids off at school, nip up to the hairdresser or visit a local park. There just isn't enough road capacity, and it will mean continued congestion, pollution and climate change.
We can debate whether removing the LTN would reduce or increase traffic. But what's beyond doubt is that people living and working on and near main roads in Crystal Palace will continue to suffer from illegal levels of air pollution without action.
It would be fantastic if our local councillors, residents associations, community groups and businesses could put their heads together to come up with a comprehensive plan picking a selection of carrots and sticks that will really work. At the moment we just have a polarised debate around a tiny LTN pilot with a few planters and a bus gate closing roads to through traffic.
As London's population is projected to grow, taking no action inevitably means more congested and polluted roads. We need to reduce the amount we each drive on average just to deal with the growing population. During the COVID-19 pandemic with low public transport capacity the risk is that traffic levels explode unless we find ways to dissuade people from driving so often.
What can our councils do?
A final note. Of all the above options, only three are within the powers of councils: make walking and cycling safer and more pleasant with wider pavements, cycle lanes etc; make driving less convenient by closing roads to through-traffic; and get its own house in order with things like car club membership as a benefit in kind for its staff, and switching its own logistics to bikes or electric vehicles (as Lambeth has been doing, for example, with a cycle courier).
The first two require funding, which is in short supply at the moment.
Councils can lobby and advocate for the others, of course. Labour councillors in Crystal Palace can press the Mayor to be more bold.
The added problem locally is that Bromley Council refuses to do anything about this. It has opposed or refused to contemplate 20mph speed limits, cycle lanes, closing roads to through traffic and parking restrictions. As we've seen with Croydon's small LTN pilot, this can undermine efforts by the other four councils.
A further problem is that a large proportion of the traffic through Crystal Palace is not local – people just driving through from Streatham to Catford, or Norbury to Penge. So small interventions like Croydon's LTN pilot, or tweaking the car parking around the Triangle, will have limited benefits. Much larger interventions across a wider area, working with TfL, are more likely to work. But the more expensive a scheme, the wider the consultation, the less likely it is to get off the ground.
There's no easy answer, and those who oppose imperfect solutions are most likely to just get the status quo – rising traffic, congestion and pollution as the local population grows.
So long as the Government refuses to act, except some funding to rush through half-cocked LTNs; so long as the Mayor is focused on saving TfL from bankruptcy and fails to put in place a strategy to drive down traffic; councils face a stark choice. They either sit back and let the problems grow, or they do everything they can to encourage people to drive less, and walk and cycle more.